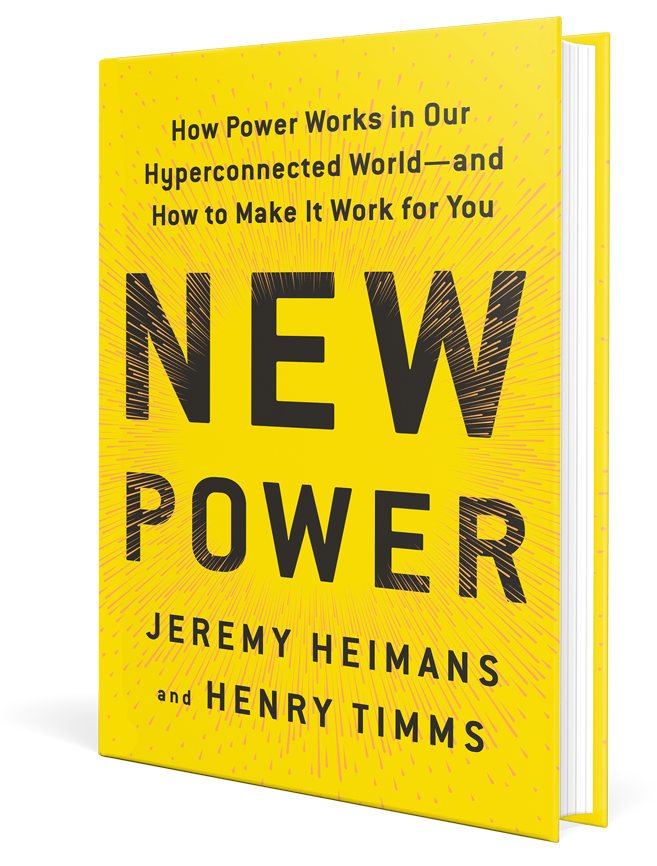 The story of our chaotic, hyperconnected world — and how you can navigate it.
Understanding "new power" is the critical skill of the 21st century. From #MeToo to Airbnb – from Barack Obama to the shock election of Donald Trump – those who know how to harness the power of the connected crowd are leaping ahead.
In New Power, two visionary thinkers take you on a whirlwind tour of our times, revealing how "new power" is reshaping politics, business and society – and what it all means for you.

Order New Power for your network and beyond.
We need to get New Power – and its lessons for spreading ideas and building movements – into the right hands at this critical time.
There are two ways you can play a role:
Order additional copies of the book to share with your own team and network
Gift copies of the book to teachers, climate scientists, social justice activists and others we are working with as they deploy new power in their crucial work
Power structures are in serious flux. The best window I've seen into this new world is a book called New Power, by Jeremy Heimans and Henry Timms.
This book will inform and inspire all those wanting to make change...and achieve a goal against all odds.
If you want to understand how the world is changing, what's really happening and how we can all find our way, this book could not be coming at a better time.
A must-read, New Power is a gift to our movements. It's not just about going viral—it's about connecting millions of people to roll up our sleeves and create the changes we long for.
An essential and extremely insightful guide for anyone who wants to maximize the opportunities for progress and impact in today's new tightly connected world.
A vital book. New Power can light a flame bright enough to outshine the glinting fangs and tiki torches.
This fascinating book will transform your understanding of how to gain power - and how to use it for good.
If you do not understand new power, you will not fare well in the new networked world of the 21st century. It's that simple.
A much needed dose of optimism, helping us understand that the future is ours for the making. A must-read for today's leaders in any field.
New Power is a tour-de-force by two of the great mobilizers of the First Global generation.